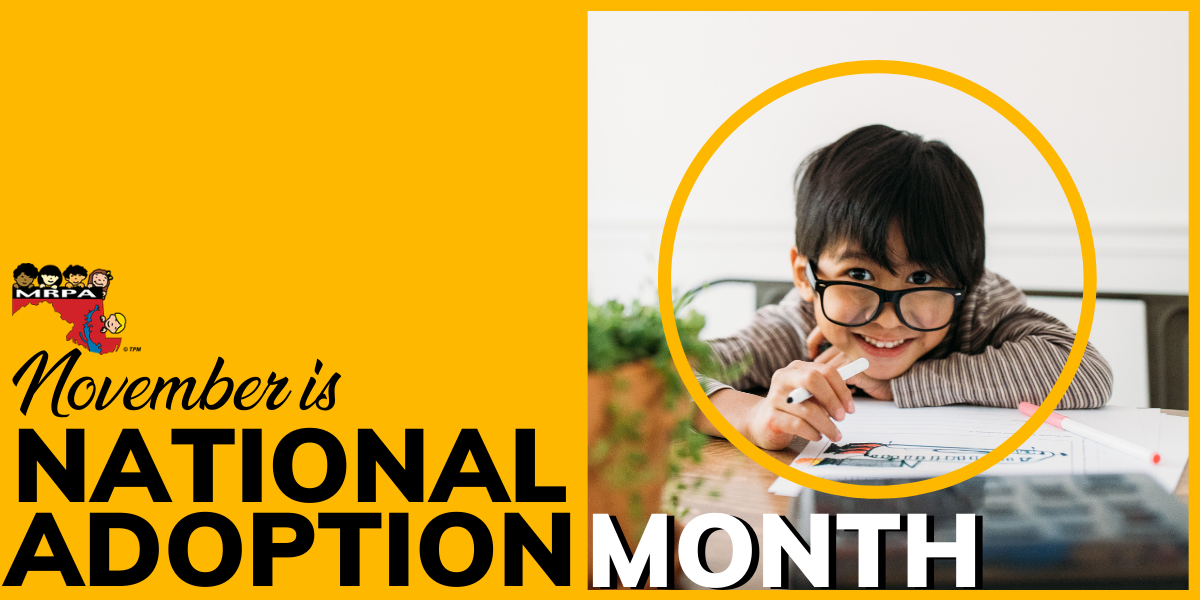 Welcome to the Maryland Resource Parent Association!
Our mission is to provide the best possible content to Resource Parents of all kinds, including Foster, Adoptive and Kinship parents.
We provide information and updates about news and events that are of importance to Resource Parents, and work daily to make sure they have the support they need to provide the best care possible.
There is no membership fee – our resources are freely available to all! Feel free to share them with other parents in your network.
We're glad you found us!
Together We Celebrate National Adoption Month 2020
In 1995, President Bill Clinton expanded what had been 'National Adoption Week' to encompass the entire month of November, during which we honor and celebrate the achievements of adoptive parents. MRPA celebrates resource parents of all kinds, every day, and in November we pay special homage to adoptive parents across Maryland who are making life better for the children in their care.
Maryland 2020 Adoptive Parents of the Year
During this Thanksgiving Week we are honored to share the winners of the 'Maryland Adoptive Parents of the Year' awards. They were each nominated by their Jurisdiction for outstanding contributions, and we sincerely thank each and every one for their tireless work and dedication to the welfare of children.
Follow us here and on Facebook, as we'll be sharing more award winners on Tuesday and Wednesday leading up to Thanksgiving day.
And now… drum roll,please!… we present the award winners! Appropriately, click on the 'heart' to view their complete nomination.
Resource Parent Training Opportunities
MRPA Adoption Assistance with NACAC's Josh Kroll (Dec 1st Webinar)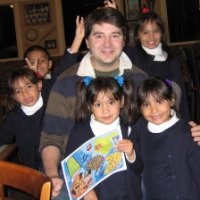 On 12/1 the MRPA will host a webinar with Josh Kroll with the NACAC, the North American Council on Adoptable Children. Learn more about this organization here.
Josh is an expert on the state laws around adoption, subsidies, and financial support available to Maryland's Resource Parents. He'll share vital information with the group, and will be available for Q&A.
When: December 1st, 8pm – 9:30pm
Where: Via Zoom, call info will be emailed to you after registration.
Mr. Kroll's photo courtesy of LinkedIn.
Register in advance for this meeting:
https://us02web.zoom.us/meeting/register/tZMocuyuqzooGdwiv886K2CvRxBNo_017rvc
After registering, you will receive a confirmation email containing information about joining the meeting.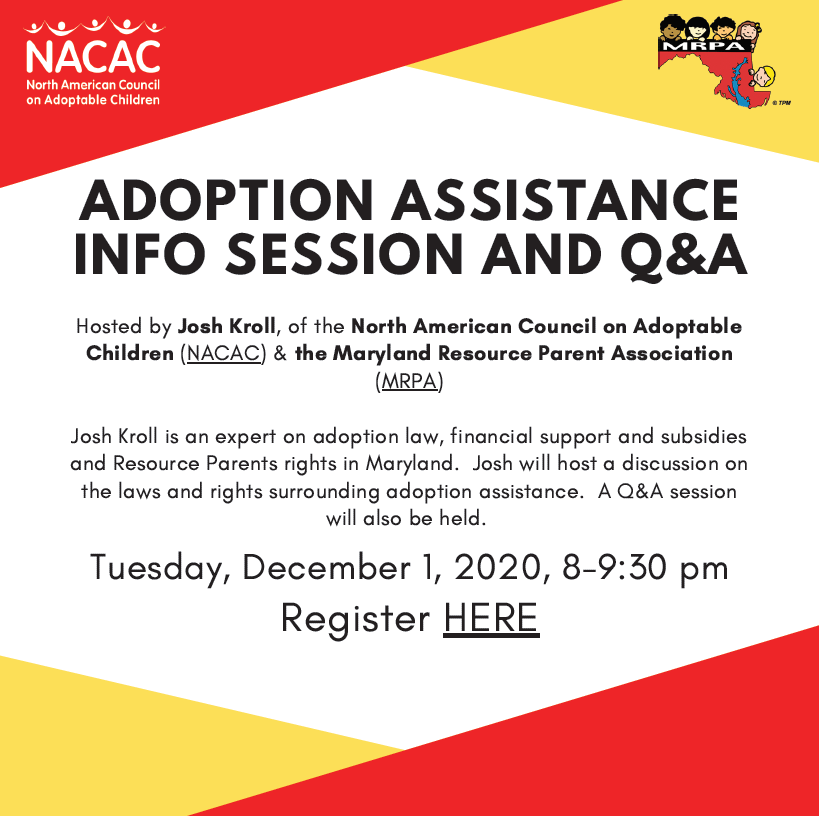 Free Online Safety Workshops - Preventing Child Abuse

There has been a staggering increase in online child sexual abuse and exploitation in the U.S. and other countries since the beginning of the pandemic:
Child sexual abuse is a preventable public health problem.
Educating parents, caregivers and trusted adults to the risks, and giving them tips on how to protect the kids in their life is a simple step we can take to address the issue. Our Maryland Essentials for Childhood partner, No More Stolen Childhoods is providing free online trainings to educate adults to the risks and sharing action steps for parents and other caregivers to take to prevent child sexual abuse before it occurs. Please share the online safety webinars with parents, providers, and other community members who can learn themselves and help to get the word out to others. You can use the provided flyers or simply share the link to the website page.
NMSC is providing 4 sessions scheduled in early November, let's fill them!
Register for these online classes HERE.
Flyers – Click to View or Print
Resource Parent Training Website

We are excited to announce that the new Resource Parent Training website and catalog are now available!
Workshops from July '20 onward are continually being added, so check back regularly to see which are open for registration.
Create Your Account
If you are a resource parent and you have not yet created an account in the Ideas@theInstitute LMS (Learning Management system):
Please use the link below to create your new profile. Upon clicking the link, participants will be asked to complete the sign-up form associated with the link which designates that you are Approved Status for Resource Parent training access.
Please create profiles for each individual if you are part of a couple. Only one account can be created per email address.
Click here to create your new profile: https://theinstitute.myabsorb.com?KeyName=ResourceParents
Already Have An Account?
Instructions for resource parents who ALREADY created a new account in Ideas@theInstitute
If you already have an account set-up in Ideas@theInstitute, please contact the help desk by email or chat to have your Resource Parent status verified and added to your profile. After this process has been completed, you will then have access to Resource Parent trainings.
Email the Help Desk at theinstitutehelp@ssw.umaryland.edu and put Resource Parent Approved Status in the subject line and make sure your name and work email are included in the body of the email.
General Instructions
Once you are logged into the website, you will first be asked to complete an initial "course" which is simply an introduction to the program.
Once that is completed, you will see this screen below. The catalog will be available by clicking the link on the right hand side under RESOURCES:

If you need assistance you can email the Help Desk at theinstitutehelp@ssw.umaryland.edu or you can contact the Help Desk by LIVE CHAT. The Help Desk is available Monday – Friday from 9am to 5pm ET.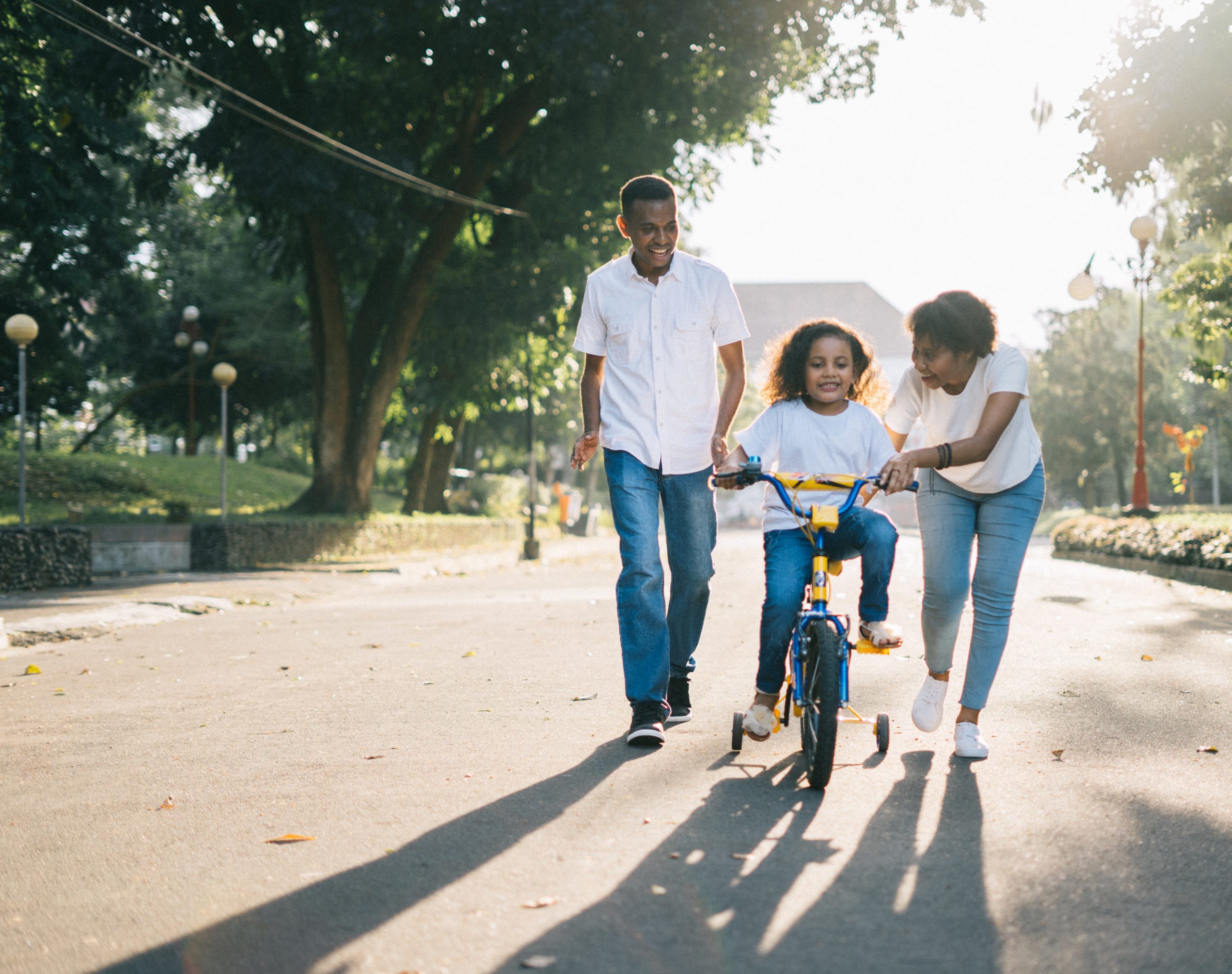 News and Info Related to the MD DHS

MD DHS Resource Parent Survey Results
Survey Goals – Background, Original Invitation
The Maryland Department of Human Services, Social Services Administration (DHS/SSA) is striving to increase authentic partnerships between staff, resource parents, and biological parents to improve safety, permanency, and well-being outcomes for children. DHS/SSA is partnering with the Maryland Resource Parent Association (MRPA) to support this effort in local jurisdictions.
With assistance from the Capacity Building Center for States (CBCS), DHS/SSA & MRPA developed a survey in SurveyMonkey to gather information from Resource Parents about their thoughts and experiences with state and local resource parent associations. The survey also asks what resources and supports Resource Parents need and find most helpful.
DHS/SSA & MRPA asks Resource Parents what their perception is of how well DHS/SSA is accomplishing its goals for resource parents in MD. 
Responses will help the DHS/SSA & MRPA workgroup develop strategies to better support resource parents, statewide and locally. This survey was anonymous, and responses will be held as confidential. 
COVID-19 News That Impacts Resource Families
The benefits for September were issued to those who received P-EBT over the summer. Please note...
read more
MRPA's Executive Director Arnie Eby was featured in an NBC piece released yesterday, 9/21, on the impact of COVID-19 on Foster children and parents.
Excerpt:
Virginia, Maryland and Washington, D.C., are easing some restrictions and rules placed on foster parents and foster children during the COVID-19 pandemic.
A News4 I-Team review found a series of safety precautions were ordered at the beginning of the crisis and have complicated the lives and work of foster families and the social service professionals who administer the system.
Watch the video and read the full story here! https://www.nbcwashington.com/investigations/covid-19-pandemic-impacting-foster-children-parents/2424143/
What To DO With Those Kids!?
MRPA Executive Director Arnold Eby joins Irene Clements in  a discussion with Rhonda Sciortino on the topic, 'What To DO With Those Kids!' during the COVID19 self isolation.
The MRPA Mission
Our Mission is to provide support service to all Resource Families in the state of Maryland. Membership in the Association shall be open to all Resource Parents.
MRPA supports foster, adoptive, kinship and guardianship parents all across the state of Maryland.
Whether you are a current resource parent, a prospective resource parent, or a child welfare professional, MRPA is there to support you.
We realize it takes all of us working together to give children in need a stable, loving family.
In the Know: Resource Parent News
Follow us on Facebook to see upcoming Events!
Prepping for the 2020 Census: Count All Kids
"The Count All Kids Campaign is a public outreach effort to working with advocates, state and local policy makers, complete count committees, service providers, and others to persuade families with young children to fill out the census questionnaire and make sure they include all their children."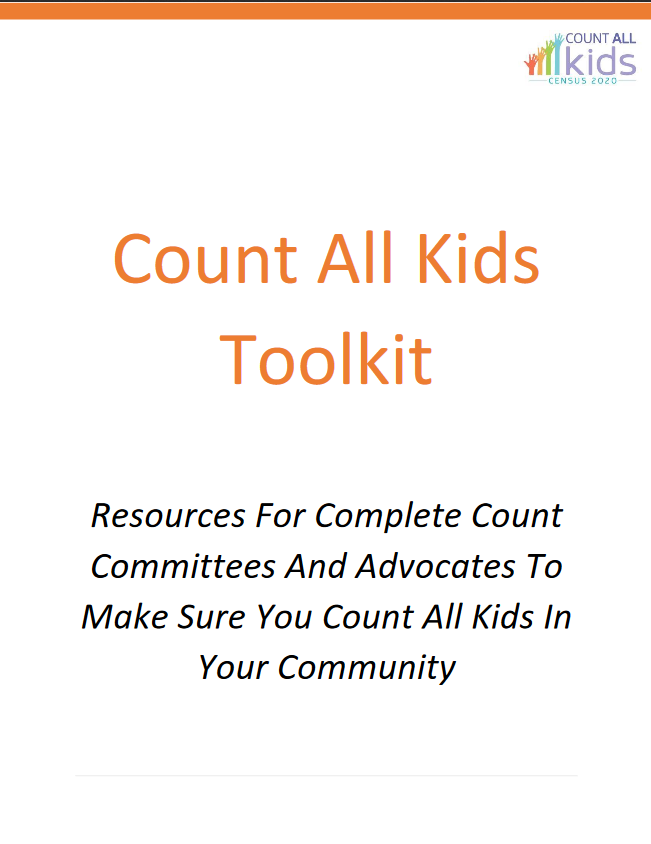 Resources Shared From the National Foster Parent Association
Click image to view a larger version.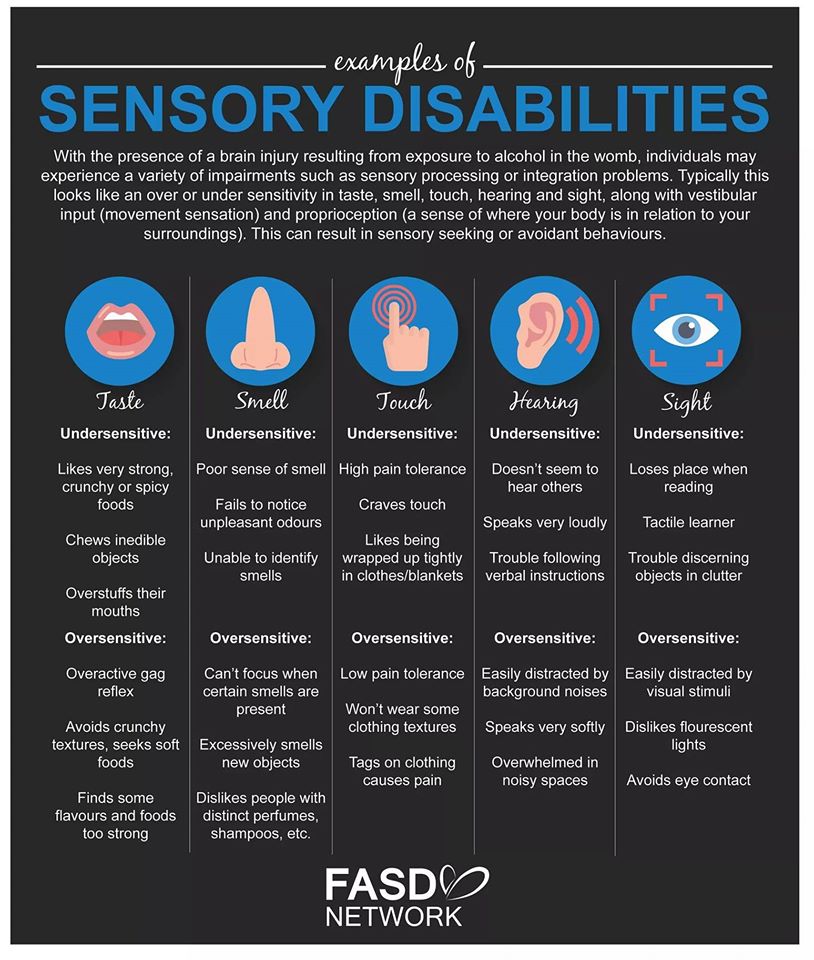 Graphic Resource From the National Foster Parent Association and the

FASD Network
"Individuals with FASD may be over or under-sensitive to certain sensory inputs, meaning that they may be so focused on what they hear, see, or feel that they can't focus on other things. Sensory processing impairments can affect an individual's learning, physical functioning, and behavioural development. Here are just some of the sensory disabilities individuals with FASD may experience."